2024 ELECTIONS: 
February 20, 2024 Spring Primary (if necessary)
April 2, 2024 Spring Election  
August 13, 2024, Primary Election
November 5, 2024, General Election
Polls will be open from 7:00 AM - 8:00 PM. Don't forget your Photo ID.
Not sure where to vote? CLICK HERE TO FIND YOUR POLLING LOCATION
ABSENTEE BALLOTS must be returned by 8:00PM on election days. You can place it in the mail or drop it off at Town Hall prior to election day. If you are returning your ballot on election day, please take it directly to your polling location.
You can request an absentee ballot to be mailed to you.
Please complete this Absentee Ballot Application  or go to http://myvote.wi.go  and choose "Vote Absentee by Mail"
Photo IDs are required to be on file for Absentee Ballot requests.
Early Voting (In-person Absentee) is available before each election. This will be updated with dates and times prior to each election.
Please remember to bring your photo ID with you.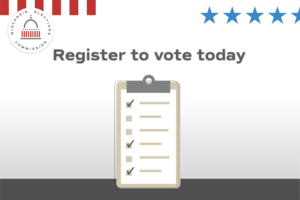 How to Register to Vote
https://myvote.wi.gov/en-us/RegisterToVote
How to check to see if you are registered
Search by Name in the top right corner
https://myvote.wi.gov/en-us/RegisterToVote
Running for office
You can find out more about how to get on the ballot at: http://elections.wi.gov/candidates
Interested in becoming a Poll Worker? 
We have 2 locations - Town Hall and Riverwood Community Church.
There are 2 shifts available:  6:30 AM - 1:30 PM or 1:30 PM to Close.  Or you can opt to work both for a full day.
Poll Workers are compensated for their time and training is provided.